Three Mile Bend Recreation Center Red Deer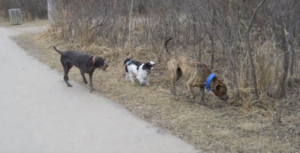 A nice attraction Red Deer, Alberta, Canada is the Three Mile Bend Recreation Center. This is a 55 – hectare nature area, It is situated in the North Bank Trail close by the Red Deer River. The park provides for several outdoor activities and includes an off-leash dog park.

Three Mile Bend Recreation Center has trails for hiking, a picnic area, an off-leash dog area, canoeing, kayaking, a remote control car track, and a freestyle ski jump. The park's setting and trails create the impression that you are far from the city, but the city is right there. It provides a nice sanctuary to enjoy the outdoors while being close to everything. There are lots of walking trails, including a paved loop trail. Bird watchers have reported seeing over 50 different species of birds in the park and there are many different types of waterfowl. Deer and other wildlife roam the park. 

One of the draws to the Three Mile Bend Recreation Center is the off-leash dog park. So many places that allow dogs require the dog to be on a leash at all times. At the Three Mile Bend Recreation Center, dogs are allowed off-leash to walk, run, train, and swim in the river and ponds. The open areas allow for dog training. The trails and forested areas are great areas to take your dog on an outdoor adventure. As with most dog parks, the usual rules apply. The dog needs to be well behaved and return on command. You need to keep your leash with you at all times and keep the dog on a leash when he isn't in the designated dog park areas. Your dog needs to be current on vaccinations. Clean up after your dog, etc. All the rules are designed to keep you, your dog, other people, their dogs, and the wildlife safe.

The Three Mile Bend Recreation Center is a wonderful park near Red Deer. If you're in the area, visit with your dog and have a great time.